Implant Restoration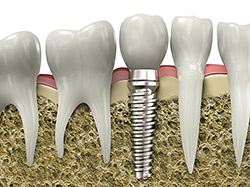 If you are missing teeth, it is crucial to replace them. Without all your teeth, chewing and eating can destabilize your bite and cause you discomfort. When teeth are missing, your mouth can shift and even cause your face to look older. Implants are a great way to replace your missing teeth, and if properly maintained, can last a lifetime!
An implant is a new tooth made of metal and porcelain that looks just like your natural tooth. It's composed of two main parts: one part is the titanium implant body that takes the place of the missing root, and the second part is the tooth-colored crown that is cemented on top of the implant. With implant treatment, you can smile confidently knowing no one will ever suspect you have a replacement tooth.
In addition to tooth replacement, implants may be used to anchor dentures, especially lower dentures that tend to shift when you talk or chew. For patients with removable partial dentures, implants can replace missing teeth so you have a more natural-looking smile.
---
Straumann Dental Implants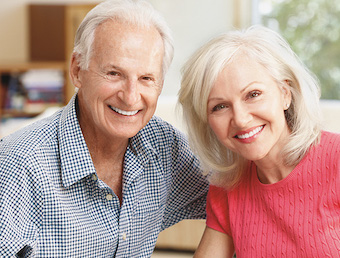 Straumann is a leading dental implant company that has earned worldwide trust, and there are many reasons why opting for a Straumann implant is an excellent choice for your oral health.
In the last decade, dental implants have become a standard treatment in dentistry, and there are many types offered by various dental implant companies. But are they offering the same quality, and have these systems been clinically proven in long-term studies? Most patients are not aware of the critical differences between implant systems. Straumann components are manufactured under consideration of internationally recognized quality standards, with high precision, and documented clinical research.
Backed by Science
Straumann has proven success in the research, development, and manufacturing of dental implant solutions. Documented with extensive scientific literature, Straumann has delivered groundbreaking innovations and set technical benchmarks since 1954. Our scientific and technological achievements had led to numerous innovations in the fields of surface technology, high-performance implant materials, and oral regeneration.
Swiss Quality and Innovation
With Swiss engineering roots, Straumann products are well-known for quality and precision. Ground-breaking innovations, such as the SLActive® implant surface, and the high-strength Roxolid® implant material, underline Straumann's position as one of the most innovative leaders in implant technology.
Reliability and Integrity
When it comes to the reliability of our implant solutions, Straumann sets high standards of quality and scientific integrity. Straumann products have been thoroughly tested and validated in preclinical and clinical studies. As ethical trusted company, Straumann takes pride in providing dentists and their patients with products that work and are backed by scientific evidence for reliable and predictable treatment results.
More than 14 million Straumann Implants Sold Worldwide
Through Swiss precision engineering and clinical excellence, the Straumann Dental Implant System has earned worldwide trust. Clinicians in more than 70 countries have purchased more than 14 million Straumann implants. Rest assured that wherever life takes you, care is nearby for your Straumann dental implants.
"Your eyes are the window to your soul, and your healthy smile reveals your image and confidence. We are a reflection of the beautiful smile that you show the world."